Fall 2023 Course Offerings
Courses include a rich variety of activities and skills, as well as academic subjects, and all are taught by experts volunteering their time. Members may take as many as they choose for one membership fee of $45 and organization membership fee of $100.
Busy schedule? Most Zoom classes are recorded for later viewing by members.
2023 Session Dates:
Fall: Sept 19 - November 9
Click on the brochure cover to view the brochure centerfold schedule of classes.
Beautiful quilt on brochure cover by Judie Travis, Quilting Teacher.
Morning classes will be offered at either 10:00 or 11:15, thus shortening break time between classes.
The sign-up form to join on our website has been simplified.
The Member Dashboard on our website has been reorganized to make it more user-friendly for registering for Zoom classes and finding class recordings.
Members will now have access not only to recordings of current classes on Zoom, but also to recordings from all previous sessions. ANY member may watch ANY recording at ANY time that suits you best! We hope this will be a real boon to busy people.
We will resume the popular day trips to nearby areas of interest.
Key Dates
August 17 - Sign-Up for Fall Session opens on website
August 31 - Sign-Up soft deadline
September 7 - Membership confirmation and Member Dashboard access email will be sent to members
September 12 - Registration for Zoom courses soft deadline
September 19 - Fall Session Begins
Process to Sign Up & Register:
(1) Beginning August 17 click Membership in the menu. 
(2) Click Sign Up Now to join the Fall Session electronically. You may choose as many onsite courses as you like. You will be contacted if a course is full.
If you prefer not to register online, click Mail-In Form and send it and your check to the office: 2600 Ashland Road, Columbia, SC 29210.
(3) By Sept. 7 members will receive confirmation and password access to the Member Dashboard on our website and can begin registering with Zoom for as many courses as desired. On the Dashboard you can click on links to register for any and all courses you would like to take through Zoom. It will be helpful to teachers and hosts if you register by Sept. 12. Call the Center office if you need help with Zoom.
To see updates, remember to clear your browsing history cache before going to our website: shepherdscenterofstandrews.org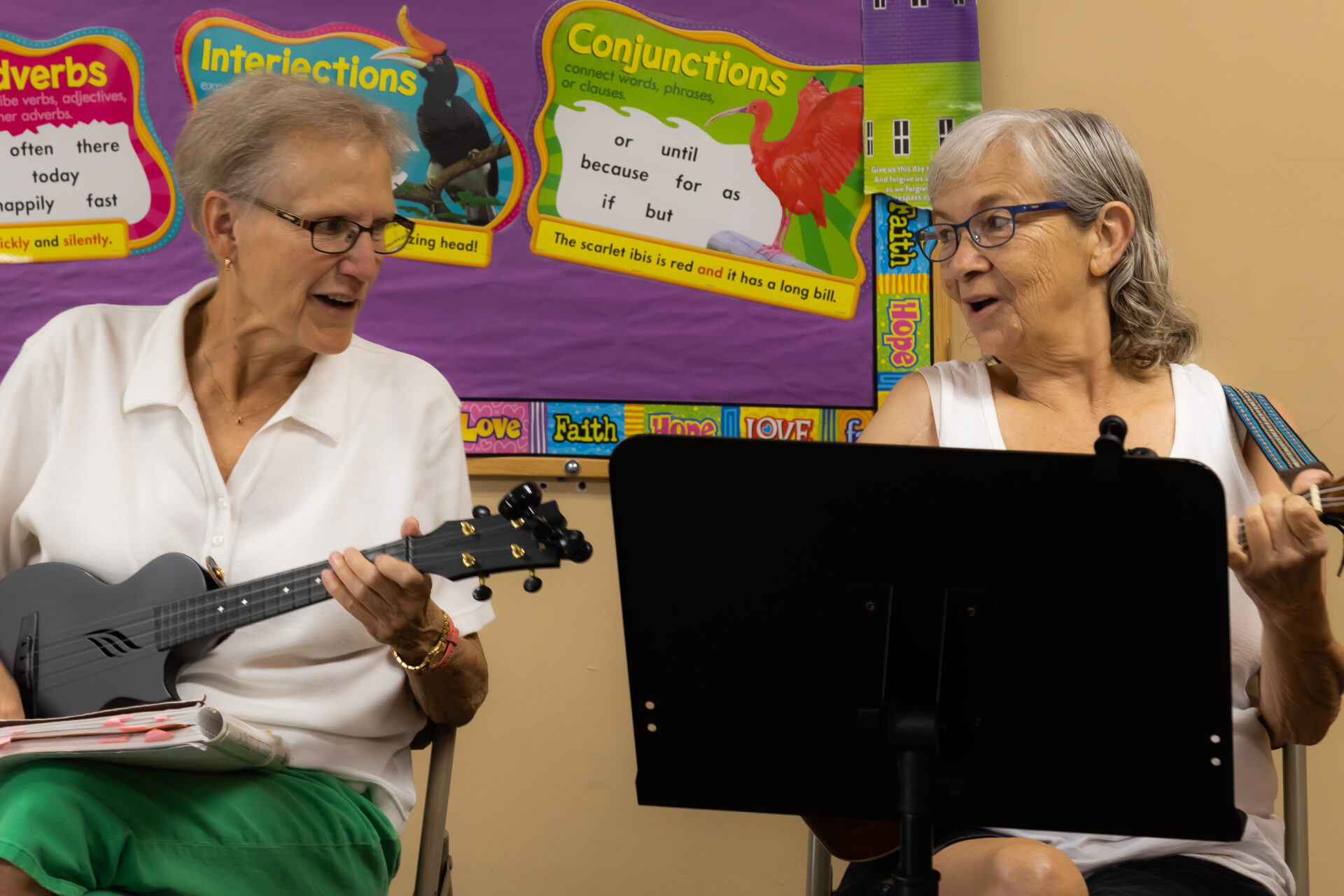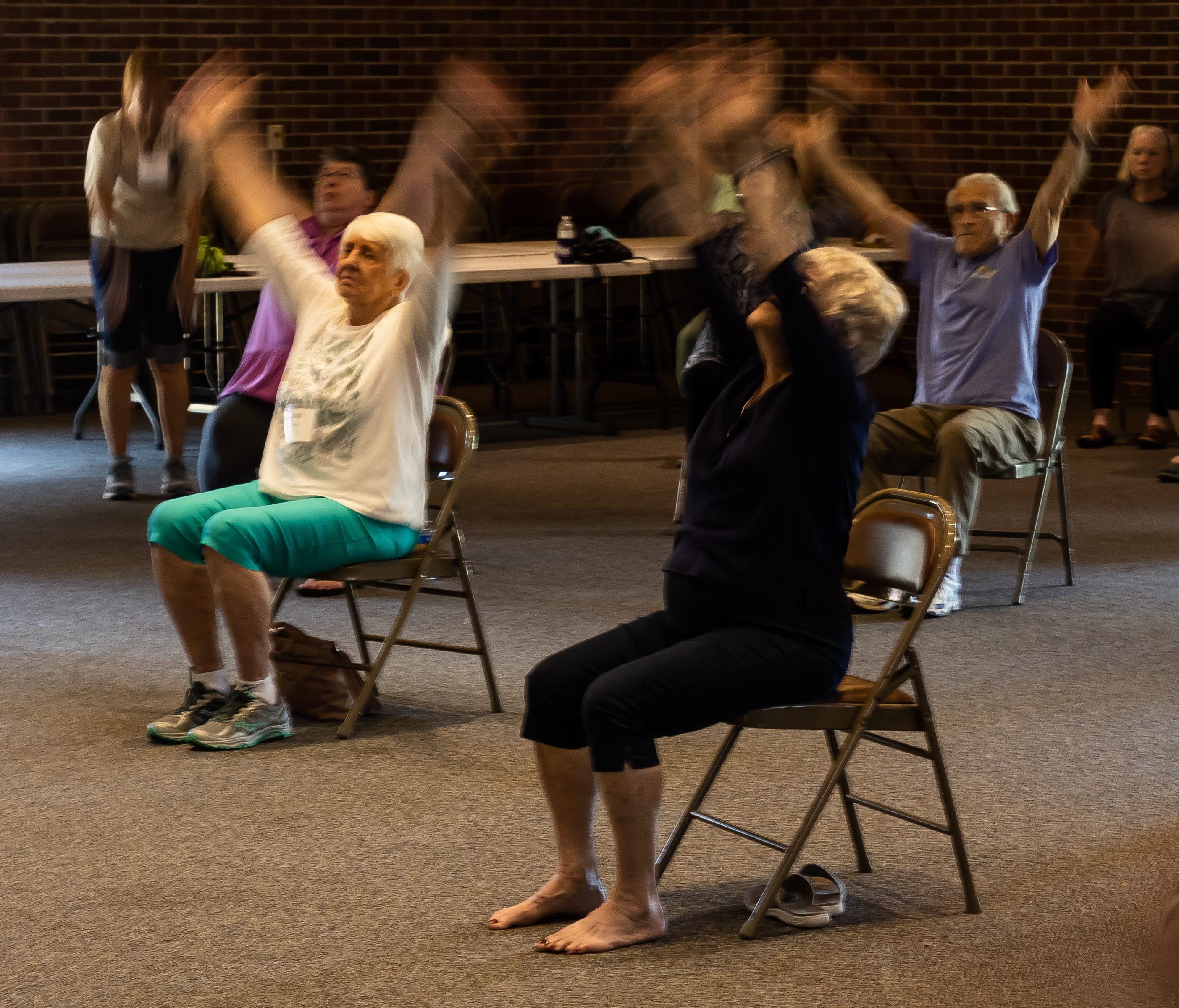 TUESDAYS: ONSITE AT ASHLAND UMC
Health Policy: While the Shepherd's Center of St. Andrews requires that all participants in onsite classes be fully vaccinated, the Center has no way of guaranteeing everyone's compliance. Members need to be aware of this non-guarantee and to make the best decisions for themselves about participating in onsite activities. Masking and maintaining physical distance are strongly encouraged onsite. (Adopted by the Board, March 28, 2022)
Watch the website and the Horn for any updates made to this policy as the Board monitors CDC guidelines.
Inclement Weather Policy: Whenever Lexington-Richland School District 5 makes any change to their schedule for inclement weather, the Center will be closed. Info will be on WIS-TV, our Facebook page, and our website. Online courses will not be affected.
Secret History of Brands: The Dark Twisted Beginnings
The Industrial Revolution spurred business growth across the world. People no longer depended on local and regional goods, but could purchase from catalogs and faraway businesses because of the railroad. Branded merchandise was the result, but at what cost? Join Bob Gants and Deb Gants as they explore the twisted dark secrets of brands such as Adidas, Chanel, and Bakelite Plastics. Class size limit 35.
---
Fiction and Non-Fiction: Two Kinds of Truth
Can we always tell the difference between the "imagined" and the "real," those tales spun from an author's fancy and those the author has actually lived? What do we assume when we label a narrative as fiction or non-fiction? Is one more or less "true" than the other? Carol McAlpin, retired English teacher, will present short stories from both genres to explore the very fine line that divides them. Class size limit 20.
---
Exploring the Psalms
We are delighted to welcome the pastor of our newest sponsoring congregation, Rev. Dr. Chris Denny, Westminster Presbyterian, who will lead us in an exploration of the vast range of literature, raw human emotion, and deep faithfulness found in the 150 Psalms. Sometimes called the songbook or prayer book of scripture, the Psalms are important in the lives of Jews and Christians alike. Bring your curiosity and your love for literature as we sample the dazzling variety in the Psalms. Class size limit 20.
---
Art: Perfecting Your Skills in Watercolor
This workshop allows students to work on their own projects. They must supply their own materials, including water containers and paper towels. Experienced artist Dee Hansen advises on techniques and materials. Open to students of all levels. Class size limit 15.
---
Chair Yoga
Cindy Smith, certified YogaFit instructor, leads this gentle form of yoga practiced sitting or standing using a chair for support. She teaches basic movements for total body stretching along with an emphasis on balance and core strength. Class size limit 75.
---
Beginning Spanish Level 2
Taught by Cindy Hall. This continuation of the previous Beginning Spanish course will focus on grammar from a textbook as well as vocabulary and conversation. Beginning Spanish will be offered again when there is a perceived need. Class size limit 12.
---
Crochet:  Happy Hookers!
Come join lifelong crocheter Kitsie Miller and friends as they relax and hone skills by making necklaces, washcloths, light-weight scarves, shawls, baby blankets--whatever their hearts desire. Kitsie will furnish notebooks with all sorts of patterns. Class size limit 15.
---
Stop Plastics from Ruining Our Lives
After Pamela Greenlaw, Chair of the Midlands Group, SC Sierra Club, offered such a dynamic program at lunch, many of you asked for this workshop. Pamela shocked us by pointing out that each of us swallows about a credit-card's worth of plastic every month. Let's separate truth from fiction about solutions to the overwhelming glut of single-use plastics. Explore why and how to reduce--not recycle--plastics to save our health, money, and communities. Presentations, Q & A, and fun, hands-on activities. Class size limit 15. [Sept. 19-Oct. 10]
---
HYBRID: Hackers and Scammers
GI Joe said "Knowing is half the battle" and that's how most of us feel heading online. Hackers and scammers are always looking for their next target and we don't want to be it. Let Mike Ward, technology entrepreneur and one of our most popular teachers, show us how those hackers work, how we can identify a scam, and how we can stay safe from becoming their next victim. Class limit 35 onsite and unlimited online.
Seniors Living Smarter
Learn valuable tips about becoming a smarter and safer consumer from Bailey Parker and Icess Booker, SC Department of Consumer Affairs. Topics will include Financial Fitness for Seniors, ID Theft and Protection, and understanding Credit Reports and Scores. Free handouts and resources will be provided to participants. Class size limit 15. [Oct. 17-Nov. 7]
---
Bell Ensemble
Secular, classical, and sacred music will be performed at a level and speed determined by the players. Focus will be on development of artistic expression. Taught by experienced music teacher Joan Marco. Minimum class size 6; maximum 10.
---
Ukulele: Newbie Level 2
Deb McMurphy teaches those who feel they need more basic work on forming chords, strumming, and learning the C scale before moving to Vibrations course. Ukulele for beginners will be offered again soon. Class size limit 6.
---
Ukulele Vibrations
The class plays old favorites with the addition of some jazz chords for color. We will also work on chord melody skills mostly in the key of C and developing a simple arpeggio using 3 or 4 individual fingers. Taught by Deb McMurphy. Class size limit 10.
---
Creative Quilting
Participants will focus on quilted bag-making with the Mondo tote bag as a group project, followed by individual choices of bag patterns. Quilters must provide all equipment, including their own sewing machines, tools, and fabrics, Basic sewing skills are required and quilting skills will be taught. Self-paced class with guidance from award-winning quilter Judie Travis. Class size limit 18. [Note: Class begins Sept. 26]
---
Beginning Mah Jongg
Learn this ancient engaging game from Pam Morris. Class size limit 12.
---
Let's Play Mah Jongg
Enjoy playing and building on basic skills under Pam Morris's jovial guidance. Class size limit 20.
---
Line Dancing
Practice favorite line dances taught by Lynda Mixon. Come for good exercise and good company.
Beginners are welcome! Class size limit 25.
---
Games with Friends
Gather with friends for an afternoon of board games and laughter. Carol McGinnis Kay, coordinator.
Group size limit 16.
---
Intermediate Bridge
Enjoy some hands-on formal teaching from Judy Johnson, assisted by June Cook, and lots of good friendly bridge play with fellow Shepherd's Center members.  Class focuses on reviewing bridge basics. Group size limit 12.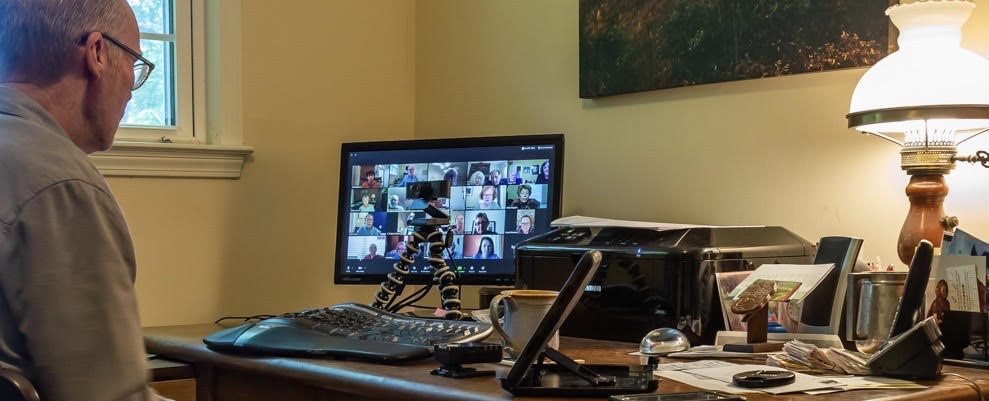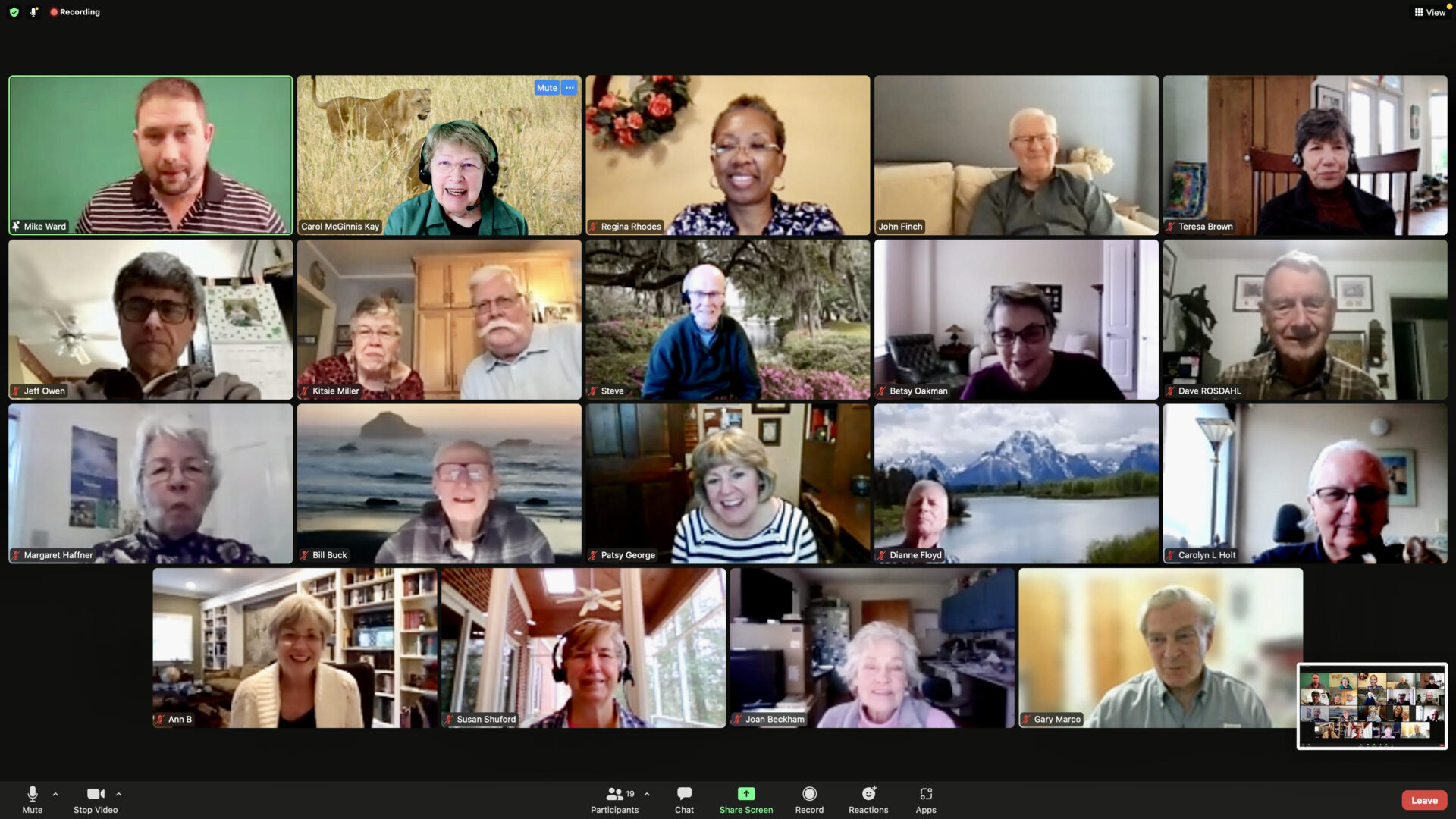 COURSES OFFERED VIA ZOOM
MOST COURSES ARE ON THURSDAY. EXCEPTIONS ARE ONE HYBRID (THAT IS, ONSITE AND ONLINE) ON TUESDAY AND CONTINUING SPANISH ON WEDNESDAY.
Getting Ready to Zoom: Zoom is an online technology ideal for distance education. To get started, type the word Zoom into the web browser on your desktop or laptop computer. At the Zoom website, sign up for the free basic service and download the app as directed.
Busy schedule? Most Zoom classes are recorded for later viewing by members through the member dashboard.                                                                                                                                                                                                                                                                                                                                                
TUESDAYS HYBRID: Hackers and Scammers
GI Joe said "Knowing is half the battle" and that's how most of us feel heading online. Hackers and scammers are always looking for their next target and we don't want to be it. Let Mike Ward, technology entrepreneur and one of our most popular teachers, show us how those hackers work, how we can identify a scam, and how we can stay safe from becoming their next victim. Class limit 35 onsite and unlimited online.
---
WEDNESDAYS: Continuing Spanish
Dr. David P. Hill, Professor of Spanish Emeritus, USC, guides us in conversation practice, cultural
readings, and grammar review. Some prior study of Spanish is expected. Class limit 12 devices.
---
THURSDAYS:
James R. Jordan: The Murder of MJ's Dad                            
Three decades after the senseless killing of the father of basketball legend Michael Jordan, issues remain unresolved. While Jordan's body was found in Marlboro County, SC, the murder occurred and two men were convicted in notorious Robeson County, NC, a hotbed of racial tensions and crime. Let's follow Tom Brawner, former attorney and teacher, as he examines the people and events, and we can evaluate whether our legal system delivered justice in this case.
---
Curious History of . . .
Carol McGinnis Kay, Professor of English Emerita, USC, offers another installment in her series about little known events or entities. She starts with the cultural history of dirt. (Who knew there was a history of dirt?) Fortunately, she will follow that with a history of soap. She promises no two days will be alike. Development of our alphabet one day may be followed by the Great Molasses Flood of Boston in 1919 the next.
The Readers' Circle
Ever wondered what book clubs are all about? Why they are so popular? Join us and find out.  We read fiction and non-fiction, serious and light, and we love to talk about what we read. This series begins with The Exceptions: Nancy Hopkins, MIT, and the Fight for Women in Science by Kate Zernike. This true story tells how a group of determined, brilliant women used the power of the collective and the tools of science to inspire ongoing radical change. We next read The Uncommon Reader by Alan Bennett; Killers of the Flower Moon: The Osage Murders and the Birth of the FBI by David Grann; Mrs. Queen Takes the Train by William Kuhn; and This Tender Land by William Kent Krueger . Join us for a fun and lively discussion even if you have not read the book—this is a good way to find new books! Retired librarian Teresa Brown coordinates the group.
---
Trivial Pursuit                       
Enjoy an hour of fun and frolic as you and your team try to answer trivia questions from Bob Gants. No one plays alone, and you will have lots of fun and laughter, and perhaps even learn some vital trivia you didn't know. No prizes, no finger pointing, no reason not to come and have a good time!
---
Creative Writing Group
In a welcoming environment, members share prose and verse, memoirs and fiction. Indulge your creativity, engage in a journey of self-discovery, or just enjoy listening as others share their efforts. Group leader Dr. Miriam Johnson, Professor of Social Work Emerita, USC, provides writing prompts and optional homework. Members unable to join online may participate through exchanges of documents and other offline contacts. Zoom participants limit 15.
CREDITS: Courses planned by Adventures in Learning Committee, chaired by Carol McGinnis Kay and co-chaired by Deb Gants. Brochure designed by Carol McGinnis Kay. Beautiful quilt on brochure cover by Judie Travis, Quilting Teacher.